Syrian president Bashar Assad gave an interview to the Russian media, RT being one of them about the current refugee's crises that faces Europe as well as his opinions about ISIS.
Here are some excerpts from the interview.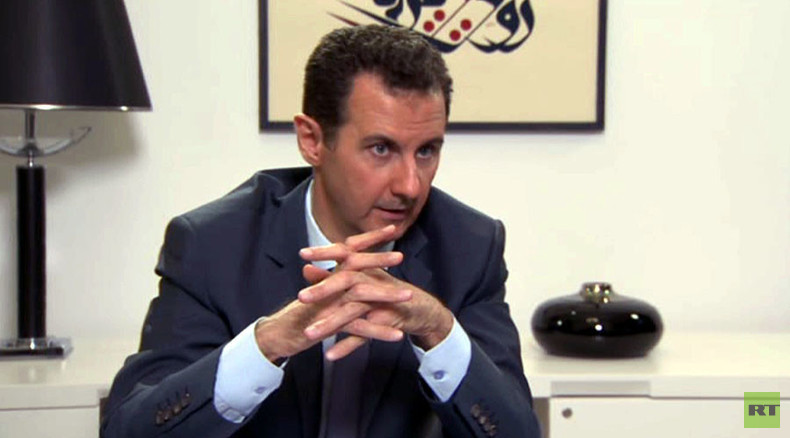 Question:Mr. President, thank you from the Russian media, from RT, from Rossiyskaya Gazeta, Channel 1, Russia 24, RIA Novosti, and NTV channel, for giving us all the opportunity to talk to you during this very critical phase of the crisis in Syria, where there are many questions that need to be addressed on where exactly the political process to achieve peace in Syria is heading, what's the latest developments on the fight against ISIL, and the status of the Russian and Syrian partnership, and of course the enormous exodus of Syrian refugees that has been dominating headlines in Europe.
Now, the crisis in Syria is entering its fifth year. You have defied all predictions by Western leaders that you would be ousted imminently, and continue to serve today as the President of the Syrian Arab Republic. Now, there has been a lot of speculation recently caused by reports that officials from your government met with officials from your adversary Saudi Arabia that caused speculation that the political process in Syria has entered a new phase, but then statements from Saudi Arabia that continue to insist on your departure suggest that in fact very little has changed despite the grave threat that groups like ISIL pose far beyond Syria's borders.
So, what is your position on the political process? How do you feel about power sharing and working with those groups in the opposition that continue to say publically that there can be no political solution in Syria unless that includes your immediate departure? Have they sent you any signal that they are willing to team up with you and your government? In addition to that, since the beginning of the crisis in Syria, many of those groups were calling to you to carry out reforms and political change. But is such change even possible now under the current circumstances with the war and the ongoing spread of terror in Syria?
President Assad: Let me first divide this question. It's a multi question in one question. The first part regarding the political process, since the beginning of the crisis we adopted the dialogue approach, and there were many rounds of dialogue between Syrians in Syria, in Moscow, and in Geneva. Actually, the only step that has been made or achieved was in Moscow 2, not in Geneva, not in Moscow 1, and actually it's a partial step, it's not a full step, and that's natural because it's a big crisis. You cannot achieve solutions in a few hours or a few days. It's a step forward, and we are waiting for Moscow 3. I think we need to continue the dialogue between the Syrian entities, political entities or political currents, in parallel with fighting terrorism in order to achieve or reach a consensus about the future of Syria. So, that's what we have to continue. Let's say we sit together as Syrian political parties or powers and achieve a consensus regarding something in politics, in economy, in education, in health, in everything. How can we implement it if the priority of every single Syrian citizen is to be secure? So, we can achieve consensus, but we cannot implement unless we defeat the terrorism in Syria. We have to defeat terrorism, not only ISIS.
I'm talking about terrorism, because you have many organizations, mainly ISIS and al-Nusra that were announced as terrorist groups by the Security Council. So, this is regarding the political process. Sharing power, of course we already shared it with some part of the opposition that accepted to share it with us. A few years ago they joined the government. Although sharing power is related to the constitution, to the elections, mainly parliamentary elections, and of course representation of the Syrian people by those powers. But in spite of that, because of the crisis, we said let's share it now, let's do something, a step forward, no matter how effective.
Regarding the refugee crisis, I will say now that Western dealing in the Western propaganda recently, mainly during the last week, regardless of the accusation that those refugees are fleeing the Syrian government, but they call it regime, of course. Actually, it's like the West now is crying for the refugees with one eye and aiming at them with a machinegun with the second one, because actually those refugees left Syria because of the terrorism, mainly because of the terrorists and because of the killing, and second because of the results of terrorism. When you have terrorism, and you have the destruction of the infrastructure, you won't have the basic needs of living, so many people leave because of the terrorism and because they want to earn their living somewhere in this world.
So, the West is crying for them, and the West is supporting terrorists since the beginning of the crisis when it said that this was a peaceful uprising, when they said later it's moderate opposition, and now they say there is terrorism like al-Nusra and ISIS, but because of the Syrian state or the Syrian regime or the Syrian president. So, as long as they follow this propaganda, they will have more refugees. So, it's not about that Europe didn't accept them or embrace them as refugees, it's about not dealing with the cause. If you are worried about them, stop supporting terrorists. That's what we think regarding the crisis. This is the core of the whole issue of refugees.
Question:Mr. President, allow me to go back to the question of fighting terrorism. How do you look at the idea of creating a region free of ISIS terrorists in the north of the country on the border with Turkey? In that context, what do you say about the indirect cooperation between the West and terrorist organizations like the al-Nusra Front and other extremist groups? And with whom are you willing to cooperate and fight against ISIS terrorists?
President Assad: To say that the border with Turkey should be free of terrorism means that terrorism is allowed in other regions. That is unacceptable. Terrorism should be eradicated everywhere; and we have been calling for three decades for an international coalition to fight terrorism. But as for Western cooperation with the al-Nusra Front, this is reality, because we know that Turkey supports al-Nusra and ISIS by providing them with arms, money and terrorist volunteers. And it is well-known that Turkey has close relations with the West. Erdogan and Davutoglu cannot make a single move without coordinating first with the United States and other Western countries. Al-Nusra and ISIS operate with such a force in the region under Western cover, because Western states have always believed that terrorism is a card they can pull from their pocket and use from time to time. Now, they want to use al-Nusra just against ISIS, maybe because ISIS is out of control one way or another. But that doesn't mean they want to eradicate ISIS. Had they wanted to do so, they would have been able to do that. For us, ISIS, al-Nusra, and all similar organizations which carry weapons and kill civilians are extremist organizations.
Question:Mr. President, Russia has been fighting terrorism for 20 years, and we have seen its different manifestations. It now seems you are fighting it head on. In general, the world is witnessing a new form of terrorism. In the regions occupied by ISIS, they are setting up courts and administrations, and there are reports that it intends to mint its own currency. They are constructing what looks like a state. This in itself might attract new supporters from different countries. Can you explain to us whom are you fighting? Is it a large group of terrorists or is it a new state which intends to radically redraw regional and global borders? What is ISIS today?
President Assad: Of course, the terrorist ISIS groups tried to give the semblance of a state, as you said, in order to attract more volunteers who live on the dreams of the past: that there was an Islamic state acting for the sake of religion. That ideal is unreal. It is deceptive. But no state can suddenly bring a new form to any society. The state should be the product of its society. It should be the natural evolution of that society, to express it. In the end, a state should be a projection of its society. You cannot bring about a state which has a different form and implant it in a society. Here we ask the question: does ISIS, or what they call 'Islamic State', have any semblance to Syrian society? Certainly not.
Question:Mr. President, there is a huge wave of refugees, largely from Syria, going to Europe. Some say these people are practically lost to Syria. They are deeply unhappy with the Syrian authorities because they haven't been able to protect them and they've had to leave their homes. How do you view those people? Do you see them as part of the Syrian electorate in the future? Do you expect them to return? And the second question has to do with the European sense of guilt about the displacement happening now. Do you think that Europe should feel guilty?
President Assad: Any person who leaves Syria constitutes a loss to the homeland, to be sure, regardless of the position or capabilities of that person. This, of course, does not include terrorists. It includes all citizens in general with the exception of terrorists. So, yes, there is a great loss as a result of emigration. You raised a question on elections. Last year, we had a presidential election in Syria, and there were many refugees in different countries, particularly in Lebanon. According to Western propaganda, they had fled the state, the oppression of the state and the killing of the state, and they are supposed to be enemies of the state. But the surprise for Westerners was that most of them voted for the president who is supposed to be killing them. That was a great blow to Western propaganda. Of course, voting has certain conditions. There should be an embassy, and to have the custodianship of the Syrian state in the voting process. That depends on relations between the states. Many countries have severed relations with Syria and closed Syrian embassies, and consequently Syrian citizens cannot vote in those countries. They have to go to other countries where ballot boxes are installed, and that did happen last year.
As for Europe, of course it's guilty. Today, Europe is trying to say that Europe feels guilty because it hasn't given money or hasn't allowed these people to immigrate legally, and that's why they came across the sea and drowned. We are sad for every innocent victim, but is the victim who drowns in the sea dearer to us than the victim killed in Syria? Are they dearer than innocent people whose heads are cut off by terrorists? Can you feel sad for a child's death in the sea and not for thousands of children who have been killed by the terrorists in Syria? And also for men, women, and the elderly? These European double standards are no longer acceptable. They have been flagrantly exposed. It doesn't make sense to feel sad for the death of certain people and not for deaths of others. The principles are the same. So Europe is responsible because it supported terrorism, as I said a short while ago, and is still supporting terrorism and providing cover for them. It still calls them 'moderate' and categorizes them into groups, even though all these groups in Syria are extremists.
Source:
https://www.rt.com/news/315431-assad-interview-refugee-terrorists/
http://www.washingtonexaminer.com/assad-to-western-nations-stop-supporting-terrorists/article/2572171
http://www.telegraph.co.uk/news/worldnews/middleeast/syria/11870287/Assad-accuses-West-of-supporting-Syria-terrorists-as-it-cries-over-refugees.html